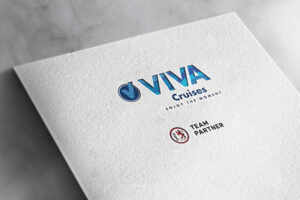 Zum Saisonstart der Deutschen Eishockey-Liga 2022/23 ist VIVA Cruises neuer Team Partner der Düsseldorfer EG. Der Flussreiseveranstalter aus Düsseldorf wird in der aktuellen Saison unter anderem bei allen Heimspielen im PSD BANK DOME auf den LED-Panels sowie mit einem Sponsor of the Day-Event präsent sein. Darüber hinaus planen beide Partner, sich gemeinsam sozialen Projekten in Düsseldorf zu widmen.
"Für uns hat die Partnerschaft zur DEG eine besondere Bedeutung. Wir identifizieren uns als Düsseldorfer Unternehmen stark mit der Stadt und haben in den Gesprächen gespürt, dass der Club der ideale Partner ist, um unsere Werte emotional nach außen zu tragen. Wir möchten zudem das Thema Flusskreuzfahrten stärken und neue Zielgruppen erschließen. Wir freuen uns auf eine gelebte Partnerschaft und die gemeinsame Reise", so Patrick Ell, Head of Marketing & Digital bei VIVA Cruises.
Christopher Schlenker, Director Sales der DEG Eishockey GmbH, sagt zur neuen Partnerschaft: "Wir haben mit VIVA Cruises von Anfang an eine gemeinsame Basis und es gibt viele Möglichkeiten, sich gegenseitig zu unterstützen. Wichtig ist uns hierbei immer, dass wir flexible und individuelle Lösungen für die Bedürfnisse und Zielsetzungen unserer Partner definieren."
Neben dem Düsseldorfer Firmensitz von VIVA Cruises befindet sich hier auch der Heimathafen – so starten zahlreiche Flusskreuzfahrten des Veranstalters direkt vor der Kulisse der Düsseldorfer Altstadt. Von dort aus geht es auf dem Rhein in Richtung Süden bis nach Straßburg oder in Richtung Norden bis in die Niederlande und Belgien. Gäste haben die Wahl von Vier-Nächte-Citytrips bis zu achttägigen Flusskreuzfahrten.
Weitere Informationen zu VIVA Cruises, Reisen und Buchungen in jedem Reisebüro oder unter www.viva-cruises.com.